For More Information Contact 434-237-2655
The Working Mom's Lunchtime Link-Up
Join our "Lunchbreak for Working Mamas" virtual group, a space where you can share the highs and lows of motherhood while tackling your everyday to-do list. Every Thursday, grab your lunch or a cup of coffee and connect with fellow moms to explore managing schedules, setting boundaries, and finding balance. Led by Alyssa Harold, this workshop is your refuge for support, empowerment, and strategies tailored to the working mother's life.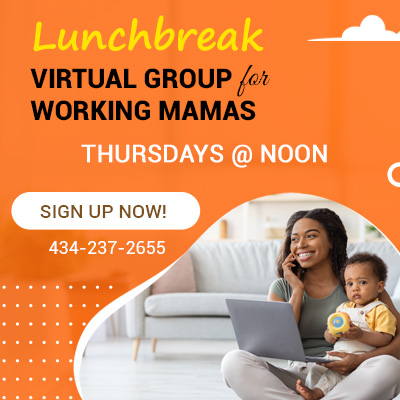 Wyndhurst Counseling & Wellness
Who is the Virtual Group for Working Moms for?

Our virtual group welcomes mothers from all walks of life and career paths. Whether you're navigating the challenges of working from home, managing responsibilities outside the home, or balancing part-time or full-time roles while raising children, you'll find invaluable insights here. Our sessions are crafted to address working mothers' unique needs and experiences at any stage, ensuring that you'll discover strategies and support that resonate with your life.
Our Working Moms Group: Your Ongoing Support Network
As we conclude our session's journey each week, remember that the connection doesn't end here. Our community of working moms is a continuous source of encouragement and understanding. Embrace this opportunity to grow, learn, and share in a place where every challenge is met with collective wisdom and every achievement is celebrated. Stay connected, stay inspired, and carry the strength you've harnessed here into every aspect of your motherhood journey.
Wyndhurst Counseling & Wellness
Take a look at our other
Services to Fit Your Needs
At Wyndhurst Counseling and Wellness, we offer individual counseling, family counseling, and other support services in addition to the Group for Working Moms. Our comprehensive approach to treatment is designed to meet the unique needs of each individual and help them achieve long-term recovery.