The Gottman's Principles Program:
The 7 Principles Workshop for couples is a 2 day couples' workshop that was designed due to the desire of folks around the country who were already using John's book as a curriculum for teaching couples how to be great.  So, The Gottman Institute heard their cry and said "Yes, let's do it!" and designed this course around what was already making a difference around the world.
The book was on the New York Times best seller's list and has continued to be used as an authority's source for therapists and lay leaders globally.  This workshop, educational in nature, continues to be offered across the United States and internationally to strengthen the relationships of multiple thousands.  Specifically, it's designed to assist couples to strengthen friendship and to learn new techniques that are designed to clearly communicate in a powerful way and solve conflict.
This workshop includes, lecture, demonstration, videos, & couples' exercises that you do privately. The various activities are very fun, extremely insightful, and massively informative.  No need to worry, whatsoever, about being asked to share personal issues publicly.  This won't happen..no group sharing.
Chuck is hilarious! At least he thinks so.  It will be great…Friday night is designed specifically to be a Date Night.  We'll be providing some very light refreshments for you all to enjoy while engaging in the training.  There are numerous fantastic restaurants close by so you can quickly grab food before the beginning of the workshop on Friday.  If you're running short on time, please…please bring the food in with you.  We're very informal and certainly get the grab and go.  You'll have plenty of time on Saturday to get some tasty food during lunch-break.
Registration of $397 per couple includes:
John's Book…The 7 Principles for Making Marriage Work…
Two Workbooks…
The Love Map Card Deck…
One Open Ended Questions Card Deck…So Fun!
Some Light Refreshments…Very Light…
Access to special hotel rates for overnight stays if desired (limited)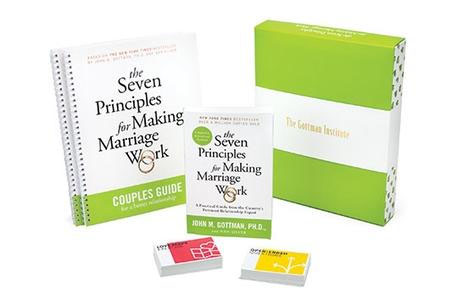 Couples will quickly learn and easily practice research-driven tools:
Actually use conflict to strengthen the relationship
Strengthen intimacy and build/rebuild trust
Identify solvable vs. unsolvable issues
Deepen your friendship
Work as effectively as a team to manage/solve problems
Clearly and effectively communicate (…& get more of what you both want & need!)

Couples for whom this workshop is not well suited:
Those in severe distress
Emotionally abusive relationships
Physically abusive relationships
Addiction currently active (alcohol/drug/gambling)
Severe mental health struggles of one/both
Singles
Who would benefit from this workshop:
Pre-engaged Couples
Premarital Couples
Basically…Everyone from youngs to those more senior
Those desiring to go from good to great
Those needing conflict management/resolution skills
Cancellation Policy:
If you can't attend the workshop for which you registered, you can easily receive a full refund through Eventbrite, as long as you request the refund from Eventbrite at least a 1 day before the event start date. Eventbrite is the service that you use when you click on the links above to purchase the tickets.