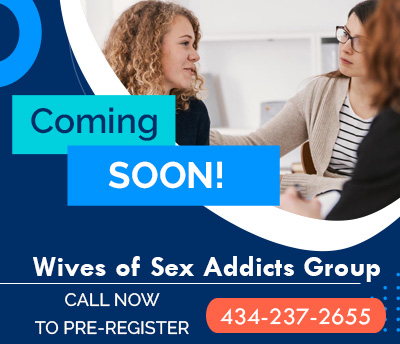 Welcome to the Wives of Sex Addicts Support Group
Welcome to the Group for Wives of Sex Addicts. We've designed this group to help you share and process your heartache surrounding your partner's struggle with sexual addiction. You will discover your personal power, and you'll learn to use it to remove victimhood. You will learn to end criticism, ultimatums, defensiveness, and unsuccessful controlling attempts. In this new day, you'll learn to get your needs met by making specific requests that lead to clarity and resolution.
Wyndhurst Counseling & Wellness
Supporting Partners Affected by Sexual Addiction Betrayal
We often find that you, as the partner, had little or no idea that your spouse was betraying you through sexual addiction (inappropriate sexual behavior, compulsive sexual behavior, pornography, or infidelity). We also find that spouses did know and could not find a way to end it. Either way, it is not your issue. It definitely affects you, but you did not cause it, and in the past, you were powerless to make a change. It's not your fault.
Resolving Unhealed Trauma in a Safe Group Environment
The Wives of Sex Addicts Support Group provides a safe environment and a way to resolve unhealed trauma brought about by your partner's sexual addiction. When this happens, something really amazing begins to happen. Some hope begins to enter. Some peace begins to enter. You begin to realize that you can be happy again. This is what happens with a community of like-minded people who know your pain. The group comes alongside you and bears your burdens with you. You don't have to carry this alone anymore.
Joining Others Who Understand Betrayal and Trauma for Restoration
You can join us and receive healing just like the other group members who've been exactly where you are. They know what it's like to be betrayed, and they know what it's like to experience trauma. This healing process cannot happen in isolation. This healing cannot happen with you remaining alone. It takes a loving community where like-minded people encourage and sometimes nudge one another toward healing and connection.
Reclaiming Power and Possibilities
The devastating trauma brought upon you by your husband's sexual addiction left you wounded and believing you are helpless. There is nothing further from the truth. Yet, when alone, this way of thinking seems so very real. However, within the group, you can realize the truth. Within the group, you can see things accurately. You no longer see yourself as a helpless victim, but rather you know that you were hurt and wounded; however, in this new day, you can see possibilities.
Wyndhurst Counseling & Wellness
Take a look at our other
Services to Fit Your Needs
At Wyndhurst Counseling and Wellness, we offer individual counseling, family counseling, and other support services in addition to our Wives of Sex Addicts Support Group Counseling services. Our comprehensive approach to addiction treatment is designed to meet the unique needs of each individual and help them achieve long-term recovery.
We're He to Help You: Call Today!  434-237-2655
If you or someone you know is struggling with a husband who is involved in sexual addiction, we'd love it if you would contact us right away to learn more about our Group Counseling for Wives of Sexual Addition in Lynchburg VA. We are here. We'll get you on the road to feeling good.