January 19 & January 26, 2024, 6-9 PM
Both Sessions for 2 People (Expecting Mother and 1 Support Person) $195.00
For More Information Contact 434-237-2655
Embrace the Journey of Seasonal Motherhood with Understanding and Support
Welcome to "Seasonal Motherhood: From Pregnancy to Postpartum," a unique group counseling session designed by Wyndhurst Counseling and Wellness. This workshop is a sanctuary for mothers-to-be and those in different stages of pregnancy and motherhood. It was created to offer guidance, support, and a community that understands the intricate journey from pregnancy to postpartum.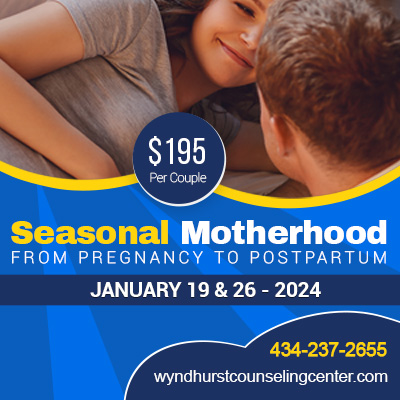 Wyndhurst Counseling & Wellness
Who is the Motherhood Workshop for?

This Seasonal Motherhood: From Pregnancy to Postpartum Workshop is for both first time parents and second + time parents. Some information will be specific to parents who already have older children, for women who already have a mental health diagnosis, or have have had perinatal/postpartum Anxiety, OCD, or Depression will also benefit greatly from this information. This workshop is all about empowering couples (or mother's and their support person) to think through difficult questions related to birth, monitor changes in mother's mental health, and work through/find support during the challenges that the postpartum period presents.
Embracing Wholeness in Motherhood: Your Journey from Pregnancy to Postpartum Wellness
"Seasonal Motherhood" is not just about navigating the physical changes and challenges of pregnancy and postpartum but also about understanding and nurturing your mental health. From managing expectations around birth to preparing for the postpartum period, we cover diverse topics, ensuring a comprehensive approach to motherhood wellness.
This workshop is a safe space to explore, learn, and grow together. It's an opportunity to form lasting bonds with other mothers, share experiences, and gain access to valuable resources and community support. We believe in the power of shared stories and collective wisdom to uplift and empower every mother in our community.
Join us as we take on this journey together, embracing the seasons of motherhood with grace, strength, and the support of a community that truly understands.
Wyndhurst Counseling & Wellness
Take a look at our other
Services to Fit Your Needs
At Wyndhurst Counseling and Wellness, we offer individual counseling, family counseling, and other support services in addition to the Seasonal Motherhood Workshop. Our comprehensive approach to treatment is designed to meet the unique needs of each individual and help them achieve long-term recovery.