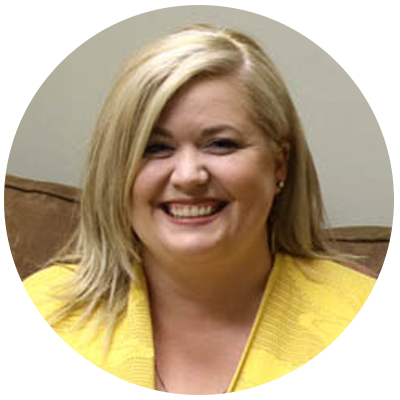 Thu: 5pm – 8pm
Fri: 5pm – 8pm
Sat: 9am – 6pm
ABOUT MARY HARRIS
Mary Harris holds a Master of Arts in Professional Counseling with a specialization in trauma and bereavement. She is a Licensed Professional Counselor in the state of Virginia, as well as a National Certified Counselor. She has worked in the mental health field since 2007. Mary has also completed Dan Allender's trauma focused training certification in Narrative Therapy.
Her passion and desire is to meet people where they are, hear and sit well with their story, give clarity and language to their pain/experiences, provide good care, and offer the goodness and healing that the trauma of the cross and the hope that an empty tomb brings. Mary strongly agrees with the following sentiment from counselor and author Dr. Larry Crabb: "We are not our problems. We are not our wounds. We are not our sins. We are persons of radical worth and unrevealed beauty." One of Mary's greatest joys is to connect with individuals who are hurting, and to have the privilege to walk them through the process of growth and wellness through a redemptive relationship. Her areas of focus in this healing process include individual counseling, sexual abuse, trauma, grief and bereavement, women's issues, boundaries, depression, family of origin issues, anxiety, adjustment, shame, identity issues, problematic relationships, self-worth and spiritual issues.
In session, Mary utilizes a variety of clinical approaches including: Trauma Focused Therapy, Narrative Therapy, and Cognitive Behavioral Therapy. Additionally, she is trained in Eye Movement Desensitization and Reprocessing (EMDR) therapy. She also believes in the importance of spiritual integration as a part of holistic and enduring care for her clients.
Personally, Mary is a North Carolina girl who has been married to her high school sweetheart since 2009. Together, they have an active little boy who brings adventure and joy to their lives. She enjoys traveling, experiencing new cultures, drinking lots of coffee, and exploring the outdoors with her friends.
Areas of Expertise:
   Individual Counseling
   Trauma Focused Counseling
   Depression Counseling
   Sexual Abuse Counseling
   EMDR

Credentials
NCC
Licensed Professional Counselor